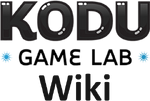 Welcome to the Kodu Game Lab Wiki!
Kodu Game Lab Wiki is a site where anyone can edit information about Kodu Game Lab. Please be sure to thoroughly read the Policies before you begin editing.
Kodu Game Lab
Kodu Game Lab is a programming integrated development environment (IDE) by Microsoft's FUSE Labs. It runs on Xbox 360 and Microsoft Windows XP, Windows Vista, Windows 7, Windows 8 and Windows 10. It was released on the Xbox Live Marketplace on June 30, 2009. A Windows version is available to the general public for download from Microsoft's FUSE web portal.
Microsoft
Microsoft is an American multinational technology company with headquarters in Redmond, Washington. It develops, manufactures, licenses, supports and sells computer software, consumer electronics, personal computers, and services. Its best known software products are the Microsoft Windows line of operating systems, the Microsoft Office suite, and the Internet Explorer and Edge web browsers.
World
World is the location in that a Kodu project takes place, Worlds can be made with different ground color and texture, Worlds mainly have robots in those for make a game, Many Worlds can be sent to the Kodu Game Lab Community, A page lists newest worlds and most downloaded worlds, Worlds have to be saved for continue it, but however, without saving it and enter Kodu again, the world still appears.
Download kodu
Bots and Objects